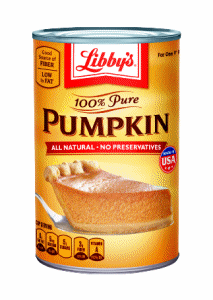 Pumpkin Pie is a tradition in 99% of all American's Thanksgiving meal. It's a fact, look it up! Last year I tried fresh pumpkin and failed. They ate it. Then sometime after the family visited this summer they left a note before they went home "Heather is starting to cook quite well." Ouch.
This year I will be getting Libby's canned pumpkin for my pumpkin pie.
Check out THIS Recipe
!!!
Each 15 oz. can contains enough pumpkin to make one 9" pie. Perfect as the base ingredient in sweet or savory recipes, each can of
LIBBY'S 100% Pure Pumpkin
is all - natural and contains no preservatives. I HATE perservatives, so Libby's wins with me!
What is your favorite traditional dish for Thanksgiving?! Leave me a comment!