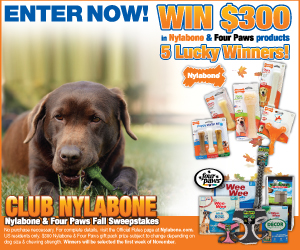 Enter to win $300 in Nutri Dent Edible Dental Chews -
HERE
(deadline Oct 31)
• Clinically Proven Better Than Brushing! In clinical tests Nutri Dent reduces

bad breath

and tartar build-up more than weekly brushing.
• Freshens breath and reduces plaque & tartar
•

Made in the USA


• Natural with added

vitamin and minerals


• No added salt, sugar, or preservatives
• Cleans Like a Brush, Tastes Like a Treat!
Nylabone
- DuraChew, FlexiChew, and Puppy Chews
- Discourages destructive chewing and promotes positive chewing habits
- Engages, entertains, & occupies
- Bristles raised during chewing help clean teeth & control plaque and tartar
- Dura Chew for powerful chewers, Flexi Chew for moderate chewers, and Puppy Chews for teething puppies
Four Paws
- Innovative Solutions for Waste Management, Grooming, & Pet Safety
- Wee-Wee Pads are now also available in Décor patterns and the convenient Pads on a Roll
- Wee-Wee Post helps establish positive outdoor elimination habits by training your dog to eliminate in a designated area, keeping your lawn clean
- Nite Brite leashes and harnesses reflect from up to 200 feet away while walking your dog at night, helping pets and pet parents stay safe