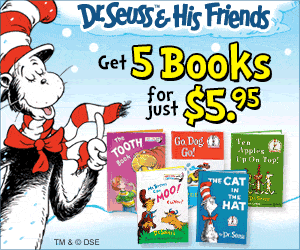 This offer comes back every 6 months. If you missed it last time,
here we go again
! You pay $5.95 for 5 books + get FREE Shipping + you can get TWO additional books for $4.99, that's 50% off!
- Receive 3 new books each month
- Create lasting memories with the same classic stories you loved as a child
-Wacky and wonderful characters will engage & entertain your child and you
-Control your membership online
-Risk free. Cancel anytime...
-No Purchase commitment!
-High-Quality, hard cover editions
-Convenience of home delivery for less than $6 per book!
*This offer is a monthly book club. Customers will
automatically
be charged and sent additional books each month. To manage
your account
, call 1-800-353-3140 or login to your
account online
: https://www.earlymoments.com/Login/