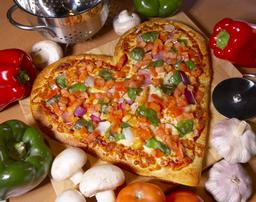 Available
now through Feb. 14
, couples and loved ones can skip the crowded, over-priced dine-out spots by ordering this limited-time pizza that everyone will take to heart.
Last year, Papa John's sold more than 60,000 heart-shaped pizzas, proving many consumers forgo the fancy Valentine's Day dinner to spend quality time at home with significant others, friends and family.

"For some, our heart-shaped pizza has become a Valentine's Day tradition," Papa John's chief marketing officer Andrew Varga said. "As Valentine's Day falls on a Monday this year, it's a great night to be able to celebrate at home with a fresh, hot heart-shaped pizza that is delivered right to the door."
Thanks
Tiffany
!